Posted by Maioush . Published on 06 October 2009
As I opened the door this morning, I saw a box in front of the door and it said on it to Mai and Samer Qwaider.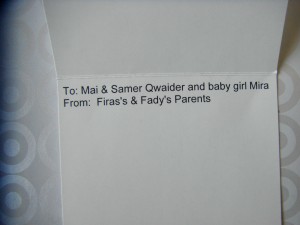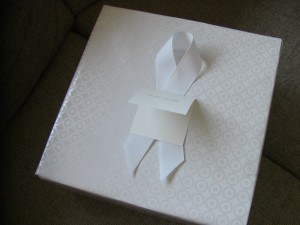 Baby Mira got her first gift from Firas and Fady's parents the sweet Dawn and family.. We don't know what to say but THANK YOU, you made our day, it's so sweet of you.
May god bless Firas and Fady for you :)
3 Responses to "Dawn and family.. THANK YOU very much :)"
Dawn Says:
October 7th, 2009 at 7:30 AM

I feel so honored. :$
You don't need to thank us, we are glad we were able to celebrate a little bit your baby girl with you, thanks to jeedo.

Thank you so much for your sweet words.

mala2e6 Says:
October 13th, 2009 at 1:41 PM

maiouuuuuuuuuuuuuuush mabrook alf mabroooook bil salameh ya rab..and mabrook to baba qwiader..walla 3esht w shoftak baba..lol..take care maioush..inshalla mira tewsal bil salameh

mwa so happy for you

Qwaider قويدر Says:
October 13th, 2009 at 5:02 PM

Dawn
I really can't thank you enough for the wonderful gift. We were so happy to see it. It was so kind and thoughtful of you and yours

Mala2e6
Shayfeh? :) I still can't believe it. Alhamdulillah … it's amazing!
Leave a Reply